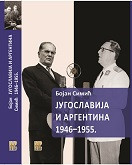 New book by Bojan Simić: Jugoslavija i Argentina 1946–1955.
Diplomatic, consular and economic relations between Federal People's Republic of
Yugoslavia (FPRY) and Republic of Argentina were established on 16 th September 1946. In the
first decade after the Second World War, the two states had some open problems and unresolved
issues such as question of commercial agreements, Yugoslav political émigrés in Argentina,
especially the Ustasha, Argentinean nationalized property in Yugoslavia, visas for Yugoslav
citizens traveling to Argentina etc. The relations between Socialist Yugoslavia and Peron's
Argentina had its ups and downs. Paradoxically, the signs of improvement were seen in 1955, the
year when Peron was overthrown and forced to leave the country (agreement to promote
legations into embassies, medals for the two chiefs of diplomacy, less tolerance towards Ustasha
in Argentina etc). The relations between the two countries in the first decade after the Second
World War were not of principal importance to both states, but they were nevertheless complex
and challenging.