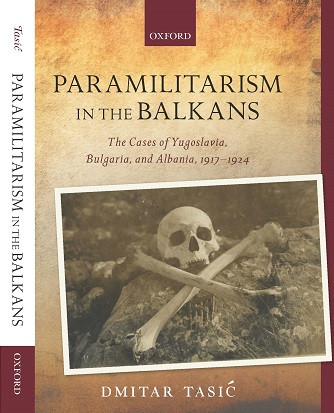 New book by Dmitar Tasić
Paramilitarism in the Balkans: the Cases of Yugoslavia, Bulgaria, and Albania, 1917–1924
Paramilitarism in the Balkans analyses the origins and manifestations of
paramilitary violence in three neighbouring Balkan countries – Yugoslavia, Bulgaria,
and Albania – after the First World War. It shows the role of paramilitarism in internal
and external policies in all three states, focusing on the main actors and perpetrators
of paramilitary violence, their social backgrounds, motivations, and future career
trajectories. Dmitar Tasic places the region into the broader European context of booming
paramilitarism that came as the result of the first global conflict, dissolution of old empires,
the creation of nation-states, and simultaneous revolutions. While paramilitarism in most
post-Great War European states was the product of violence of the First World War and
brutalization which societies of both victorious and defeated countries went through,
paramilitarism in the Balkans was closely connected with the already existing traditions
originating from the period of armed struggle against Ottoman rule, and state and nation
building projects of the late-nineteenth and early-twentieth centuries. Paramilitary
traditions were so strong that in all subsequent crises and military conflicts in
the Balkans the legacy of paramilitarism remained alive and present.
(taken from Robert Gerwarth, General Editor of the The Great War series)
You can see the content of the book by clicking here.